Celebrations of the International Yoga Day with Consul General of India in St. Petersburg(Russia)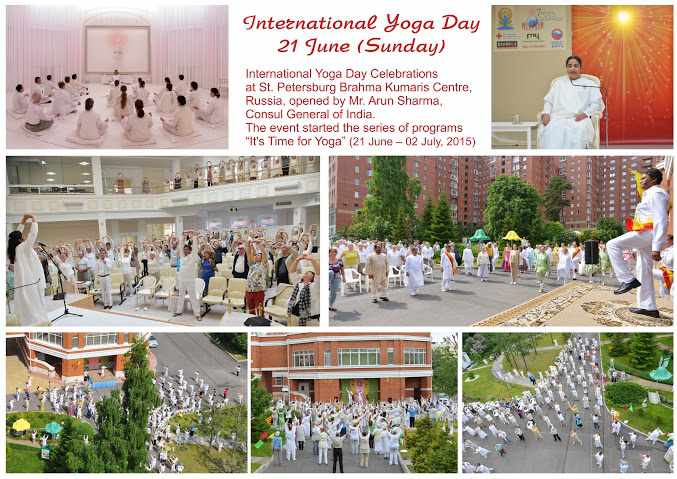 St. Petersburg, Russia
21 June, 2015
"Today is a very proud moment for all of us who enjoy the benefits of yoga, because yoga has finally received its rightful place in the whole world," said Mr. Arun Sharma, Consul General of India in St. Petersburg, opening the morning yoga session at St. Petersburg Brahma Kumaris Centre. "I am very happy to be here on the invitation of the Brahma Kumaris, and I can say that it is definitely the result of the power of yoga that all of us are here today, smiling and happy. Almost every country member of the United Nations, including Russia, supported Resolution on International Yoga Day. I am happy that people in the world have realized the value of yoga. I myself practise yoga every day, and I have a personal experience of its benefits."
The morning outdoor yoga session was led by sis. Sujata Rathi, dietician and fitness advisor, and Dr. Shrimant Sahu, diabetologist and holistic healthcare expert, who have arrived in Russia on this occasion from the Global Hospital and Research Centre (Mount Abu, India).
A friendly race around Lighthouse was joined by people from the age of 8 to the age of 85! Easy and helpful physical exercises held in Peace Park charged everyone with energy. And collective chanting of "Om" created a beautiful and serene atmosphere of peace and harmony.
How do we integrate yoga in our daily life? How can we always stay young and beautiful, irrespective of our bodily age? At the evening session on 21 June sis. Sujata and Dr. Shrimant answered these and some other questions from the audience at the Diamond Hall of Lighthouse. The public event called "Embrace the Earth with Kindness" brought together BKs, friends of the Brahma Kumaris and newcomers.