Grand Events at Hyderabad with Sis. BK.Shivani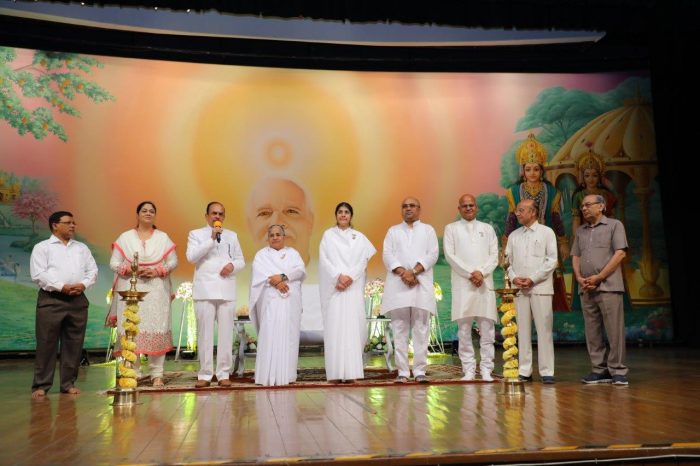 World Renowned speaker Sister BK. Shivani visited Hyderabad for two days on 17th and 18th August 2019. All the programme were grand success. Total 3 events for guests and 1 event for BKs were organised. These programmes were conducted in the Global Peace Auditorium of Brahma Kumaris – Shanti Sarovar, Hyderabad.
Overall about 9000 souls got benefitted from these events including several IPs and VIPs. Participants had deeply enjoyed the talks and meditation. As several participants visited Brahma Kumaris campus for the first, they all could feel the pure positive vibrations prevailing at Brahma Kumaris campus. Hundreds of people registered for follow up meditation camp which is organised at all centres of Hyderabad-Secunderabad.
The interesting part is that several top VIPs and IPs heard from Sister Shivani all the 2 hours and were very much refreshed and enlightened.
Kuldeep Didi, Director, Shanti Sarovar has organised Yog shivirs in all the centres.
Few of the top dignitaries who participated in various events of Sister Shivani were:
Hon'ble Speaker of Telangana Assembly, Sri Pocharam Srinivas Reddy ji
Honourable Home Minister Sri Mohd. Mahmood Ali ji
Smt. K. Kavita, Ex. MP, daughter of Chief Minister
Justice Amarnath Goud, Judge High Court of Telangana
Sowmya Mishra IPS, Addl DG
Govardhan Reddy, MLA, Nizamabad
Justice Eshwaraiah, Former Chairman NCBC
Gopala Krishnananda Swamiji
A.K. Goyal, Special Chief Secretary
Mr. Murali Mohan, Actor & Owner Jayabheri Villas
Vivekananda, MLA
Ajit Kumar, MLA
Anjaneyulu, MLA and others.