Mt Abu – Silver Jubilee Diwali Celebrations at Gyan Sarovar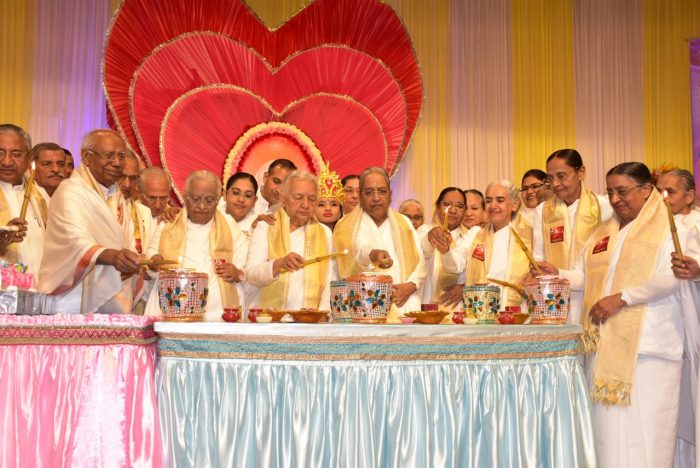 Mount Abu (RJ): The Brahma Kumaris, Gyan Sarovar celebrated its 25th Anniversary Diwali at Academy Campus in a grand manner. The senior members of the Brahma Kumaris Family from India and abroad including BK Dadi Ishu, Joint Chief of Brahma Kumaris; BK Munni, General Manager, Shantivan; Dr. Nirmala, Director of Gyansarovar; BK Jayanti, Director of Brahma Kumaris in Europe and the Middle East Region; BK Karuna, Media Head of the Brahma Kumaris; Dr. Pratap Midha, Director, Global Hospital; BK Atam Prakash, Chief Editor of Gyanamrit; BK Bhupal, Manager, Shantivan, BK Ashok Gaba, Chairperson, Security Wing etc. attended this event.
BK Karuna, Chairperson of Media Wing said that Diwali represents lighting the flame of Divine Knowledge and dispelling the darkness of ignorance. He acknowledged the divine services of 40,000 dedicated Brahma Kumaris sisters and 10,000 brothers in 140 countries of the world.
Dr. BK Nirmala, Director of Gyan Sarovar Academy expressed her gratitude towards all the prominent personalities and audience members for attending the event. She gave special thanks to those who offered services for making this program happened at Gyan Sarovar 25 years ago.
BK Munni, General Manager & Programme Director of the Brahma Kumaris recounted the founding days of Gyansarovar and those many personalities who had offered great services to this place. She also expressed a wish for a movie of divine services of Gyan Sarovar be made on Silver Jubilee Occasion. Sister BK Jayanti from London conveyed his good wishes for this grand event.