Mt Abu- President of India Inaugurates 2-day National Women Convention at Brahma Kumaris HQ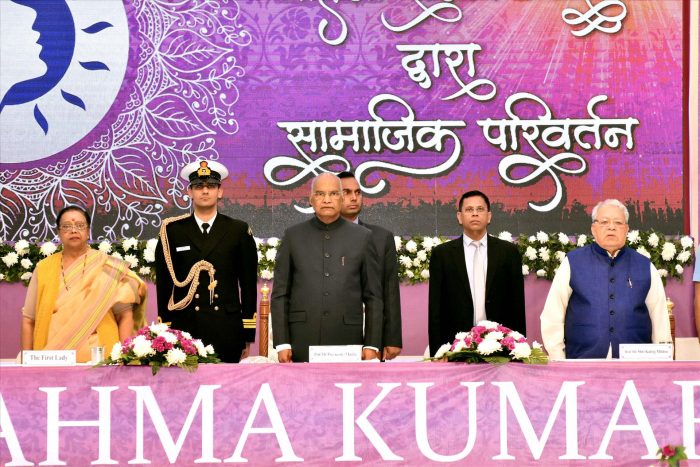 President of India Inaugurates 2-day National Women Convention at Brahma Kumaris HQ
Abu Road (RJ): His Excellency Ram Nath Kovind,  the President of India inaugurated the 2-day National Convention on "Empowerment of Women for Social Transformation" at the Brahma Kumaris World Headquarters in Abu Road, Near Mount Abu with a candle lighting. Rajasthan State Governor Kalraj Mishra, Rajasthan State Energy Minister BD Kalla, and First Lady Savita Kovind also graced the occasion.
Honorable President of India Ramnath Kovind in his address said that he is greatly pleased to have come to an organization that is actively involved in transforming humanity for the better. Today, everyone searches for peace and tries to find it from outside things. Spirituality is the highest and best way to peace. Spiritual path leads us to good and moral conduct effortlessly. It is the culmination of all religious paths. He agreed with Dadi Janki's view that we are all children of that same Supreme Soul.
Mr. President said that the Brahma Kumaris Organization is a stellar example of women empowerment in front of the world. Brahma Baba, the founder of this organization, made jewels out of many women with his spiritual principles. Honorable President gave the title of "Jewels" to all Brahma Kumaris sisters. He appreciated Dadi Janki's service to humanity and also as the Brand Ambassador of Swachh Bharat Abhiyan. He also referred to the efficacy of Rajyoga Meditation, as it has successfully transformed so many people. He also mentioned the appreciable services of BK Sister Shivani.
The Honorable President said that women's issues are fairly highlighted today by organizations like the Brahma Kumaris, as it is the largest spiritual organization being run by women in the world today. Using spirituality as the means of women empowerment shows the far-sighted approach of this place. Empowering women empowers the whole society. Sensitizing society towards women is everyone's responsibility. It is highly appreciable that the Brahma Kumaris are working actively to support the Sustainable Development Goals of the United Nations and also for Climate Change awareness. The Brahma Kumaris network is an asset to our society. Their community dining is very efficacious and famous as it brings harmony and equality in society. This organization is an apt example of how to use women's power constructively.
He further said that the theme of this national conference is very relevant. The Brahma Kumaris is carrying out the empowerment of women for social change in the true sense. He emphasized that a society based on equality and harmony could only be possible by empowering women. He said that women's safety is a very serious issue. A lot of work has been done on this subject but much remains to be done. The incidents of demonic attacks on girls shake the conscience of the country. It is the responsibility of every parent to instill among boys the feeling of respect for women.
Dadi Janki, Chief of the Brahma Kumaris, while addressing the gathering said, Truth, Cleanliness, and Simplicity are needed.  Honesty in the Heart, Cleanliness in activities gives power. Have courage and you will receive help from the Supreme Father. She underlined who am I – I am a soul, who do I belong to – everyone belongs to the One Supreme Father, and what I have to do – benefit the world with love, peace, and happiness.
BK Nirwair, Secretary General of the Brahma Kumaris, welcomed all on this special occasion; BK Mruthyunjaya, Executive Secretary of the Brahma Kumaris, felicitated the President; and BK Asha, Director of Om Shanti Retreat center, well-coordinated the whole event.
BK Chakradhari, Chairperson of the Women's Wing of the Rajayoga Education and Research Foundation, gave the experience of deep peace and silence through a guided commentary.

Rajayogi BK Brij Mohan, Additional  Secretary General of the Brahma Kumaris;Rajayogi BK Karuna, Multi-Media Head of the Brahma Kumaris; and BK Sister Shivani, International Motivational Speaker, were also present at this occasion.
About 6,000 guests, including women leaders from all over the country and abroad, attended this event. The convention aims to focus on challenges women face and help strengthen them physically, emotionally and spiritually.